Frequently asked questions
What does CondoHive do?
---
CondoHive helps condos be their best. We provide consulting services that help ensure a condo meets or exceeds the expectations and needs of its owners/residents. We do this through strategic planning, communications planning and helping with special projects.
---
How is CondoHive different from my management company?
---
Management companies and property managers are focused on the day-to-day running of your condo. They ensure that regulatory requirements are met, bookkeeping matters, and they deal with a wide variety of trades and suppliers to ensure that capital maintenance projects are performed. Property managers also deal with every odd issue that comes up in a community… from a smelly elevator to parking lot graffiti. CondoHive is different. CondoHive is independent from your management company and your condo. We see issues through a neutral lens. Our key service is strategic planning which allows your management team and the board (with input from owners and residents) to co-create a plan going forward. A full description can be seen in this 2 minute video.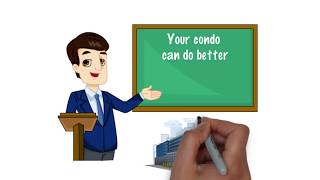 ---
Should management worry about CondoHive disrupting things?
---
No. CondoHive is focused on building harmony in the condo community. Everyone, including management will benefit from our services. Management will have a clear playbook for decision making, projects and plans. Positive outcomes for management includes fewer emails from owners/residents, shorter board meetings, easier decision making, and a better relationship with the board. In a nutshell… Management will have more time to manage.
---
Does CondoHive come in and tell us what to do?
---
No. We're not that type of consultant. CondoHive is not prescriptive and we don't tell boards or management what to do. We work with boards and management to co-create a solution. CondoHive facilitates the process and does all the heavy lifting. This doesn't mean we don't share opinions or perspectives. We have deep experience in the condo world and will freely share any observations or examples from the industry that are relevant and helpful to the process.
---
What is strategic planning for a condo?
---
Most condos rely on a long 'to-do' list. This is typically driven by the interests of the board, along with capital improvement elements listed on a reserve fund study. There's couple problems with this. First, the perspectives of a handful of board members don't necessarily align with the interests of the whole condo. Second, when engineers assess the cost for capital improvements (windows, HVAC, lobby update, etc…), they assume the condo will replace like with like. They don't account for changes, improvements, or downgrades. A strategic plan will clarify the direction of the condo. What it wants to be and how it will evolve and the rationale behind the direction. Please read this article to get a detailed overview of strategic planning for a condo.
---
Why can't my management company help us with a strategic plan?
---
Most management companies are focused on running the day-to-day operations, organizing trades, dealing with vendors, meeting with owners, regulatory requirements and a host of other responsibilities. The skill set for strategic planning is not something that property managers are trained for or typically have the necessary experience to execute. Beyond that, because a property manager or the management company are directly impacted by the results of the strategic plan, they shouldn't be the ones overseeing the process. This puts them in a precarious position where owners or the board members may be skeptical of the final plan. An independent or outside facilitator creates an environment for a collaborative process that allows for the different parties to equally contribute; and in the end, create true 'buy-in' to the plan.
---
Why can't our board do our own strategic plan?
---
Many people have the correct skill set for strategic planning. A director may have experience from work or learned about the process in business school. However when administering and facilitating your own plan, personal bias has the potential to pollute the result. When this happens, or even if there's the perception that it happens, activating the plan can become difficult. A strategic plan should have buy-in from all stakeholders. Management, the board, owners and residents should see the logic of the plan. And even if they disagree with aspects of the plan, they agree with the bigger picture and will accept the path forward. When the stakeholders are skeptical of the motivation… it negatively impacts the buy-in.
---
What's involved in the strategic planning process?
---
We break it down into a three step process. First, we collect the data. We do this through qualitative and quantitative means as well as general research. This typically means a survey, interviews with select individuals, and broader research on the condo and neighbourhood. Second, CondoHive studies the data, does detailed analysis and presents it to the board and management. Third, CondoHive facilitates one or more planning meetings with the board and management and drafts the plan for approval by the board.
---
How long does the strategic planning process take?
---
Typically the whole process should take around 3-months from the point of engagement to a completed plan. 4-6 weeks for the research phase. 2 week for analysis. 4 weeks for completing the plan.
---
What does the condo get at the end of a strategic planning process?
---
At the end of the process your condo will have:
The complete data set that includes your condo's demographic information.
An analysis of your condo and its community.
A board member succession plan
A detailed plan for your board of directors and management team.
A plan on page for regular reference at meetings.
A version of the plan tailored for your condo's ownership.
Most importantly your condo can expect outcomes to include:
Happier owners and residents
Improved relations between board and management
Board member pipeline and succession plan
More productive management and staff
Projects being completed on time and on budget
---
What does a strategic plan cost?
---
A typical plan will cost $10,000.
---
Is there a Return On Investment (ROI) for a strategic plan?
---
We estimate that the average condo unit will sell for $1000 - $5000 more when the building has a strategic plan and it's shared with potential buyers. Multiply $1000 - $5000 by the number of condo units in your building and you'll have a sense for the ROI. Beyond a pure increase in value, presenting a strategic plan will help expedite the sales process. Ensuring that when selling, your condo doesn't sit on the market long. Long term value to your condo is difficult to measure or estimate, but rest assured, a well run condo will always outperform a poorly run condo on the market.
---
What is communications at a condo?
---
Communications in a condo environment is used to disseminate information, encourage good behaviour and to build a sense of community. Tactically speaking, communications usually finds itself in newsletter, emails, posters, lobby and elevator screens, letters, websites, text messages, the grapevine, townhalls… the list goes on.
---
Why is communications important to a condo?
---
Strong or well executed communications is rarely recognized. But when poorly executed, people are quick to point out that the communication failed. When communication tactics are not being executed properly, it leads to disgruntled and frustrated owners/residents. It can also be costly to a board and management's time to navigate the outcomes of poorly executed communications. Poor communication can also lead to real costs to a condo's bottom line in a variety of circumstances.
---
What involved in your communications support?
---
CondoHive performs an audit of the current state of communications and designs a better path forward. This includes creating communications playbook, calendar, templates, and incorporating new technologies or techniques. While communications seems like a simple and straightforward endeavour, we often see the outcomes of poorly executed communications in our condos. Outcomes can include not getting compliance with requests to accommodate building repairs or maintenance, having difficulty with quorum at the AGM, not having new board members step forward, poor rule following, and a host of other challenges.
---
What's a special project?
---
A special project can be just about anything. From a major plumbing project to conducting the search for a new management or security company. CondoHive effectively becomes the project manager and provides clear and regular updates to the board and management. When not depending on a volunteer board member with their own personal concerns, or a manager who already puts in a full work day, external support means projects are more likely to be completed on time, on budget and meet the desired outcome.
---
How do we know we need help with a special project?
---
Boards and management can find themselves overwhelmed with work and responsibilities. A manager has a full time role running the day-to-day operations of a condo. A large project may occupy an additional 10-20 hours of work per week will result in compromises to performance. A board member, who is serving in a voluntary capacity, probably doesn't want to invest more time than they already are to the condo. As well, if they don't have the necessary expertise or experience, they may find themselves in over their heads. In short… when no one seems keen to take on the work and responsibility, that's where CondoHive can help.
---
---